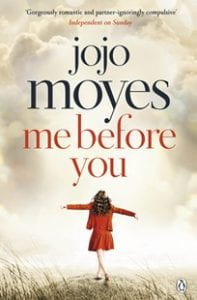 TW: End of life discussions
Lou Clark is a bit odd, a bit quirky and a bit useless. She's stuck in a relationship with a guy she doesn't really like that much, living at home and the café where she's been working for several years has just closed. Her family are barely coping financially and so Lou is forced to take and remain in a caring job – being a companion for the grumpy and rude Will Traynor – ex high-flying CEO who is now paraplegic after a car accident.
I knew that this was going to be a tear-jerker. It does raise the discussion about the place for able-bodied authors to represent stories of disabled characters, and of the problems this can cause. It certainly does cover the way able-bodied people treat those with disabilities, and may get people thinking. Now there is a greater push for own-voices books, which may influence the way disabled people are presented in literature.