The Sun is Also a Star by Nicola Yoon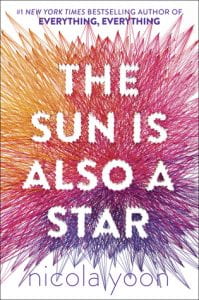 Natasha is fighting to keep her family from being deported from the US to Jamaica. Daniel is trying to figure out what his future should be, especially as his older brother who has always been the golden boy is now in disgrace. Their meeting and the day they spend revolving in each other's orbits changes both of them.
I love this book. I loved the way it is written, sometimes from Natasha's perspective, sometimes from Daniel's, sometimes giving us interesting facts, sometimes telling someone else's story. Oh, so good.